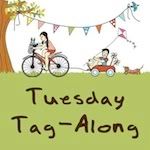 Hello Tuesday Blog Hop visitors! I hope you like some of the new changes I have made to the blog. I am slowly learning more about the blogging world and figuring out how to make this blog my own!
I have a question for you: How old were your kids when you switched them to a "Big Boy" or "Big Girl" bed? We switched Jonah a few months ago, and are still struggling almost nightly with him constantly getting out of bed. Did we switch him too soon? Would it be better to just stick it out and keep him in his bed, or should we put him back into the crib? I wouldn't really care that much if he had his own room, however, now that all three kiddos are in the same room, this has been causing some problems.... He gets out of bed and turns on the light (every night, multiple times), waking baby sister; he climbs up into big sisters bunk bed, wanting to play; he drags all of his blankets, pillow, and stuffed animals out of his bed and scatters them all over the floor; once I caught him emptying everything out of baby sister's dresser; he often plays in his own dresser too; sometimes he also comes out of their room to play in our room or "visit" us here in the living room. So, I guess I am wondering if we should put him back in the crib since he is constantly keeping his sisters awake with his night time wanderings. Thoughts? Ideas?
Jonah- the escapee- right after we found his long lost bear :) He's so stinkin cute.